App-Review: Microsoft Solitaire Collection
April 7, 2017
I want to open my App-Review series with a game I've been playing a lot since it ever launched and it is a game that is so simple yet still hours of fun: Microsoft Solitaire Collection.
Author's note: All my devices are set to German and there was no option in the app to switch to English. Any important things are translated in the captions.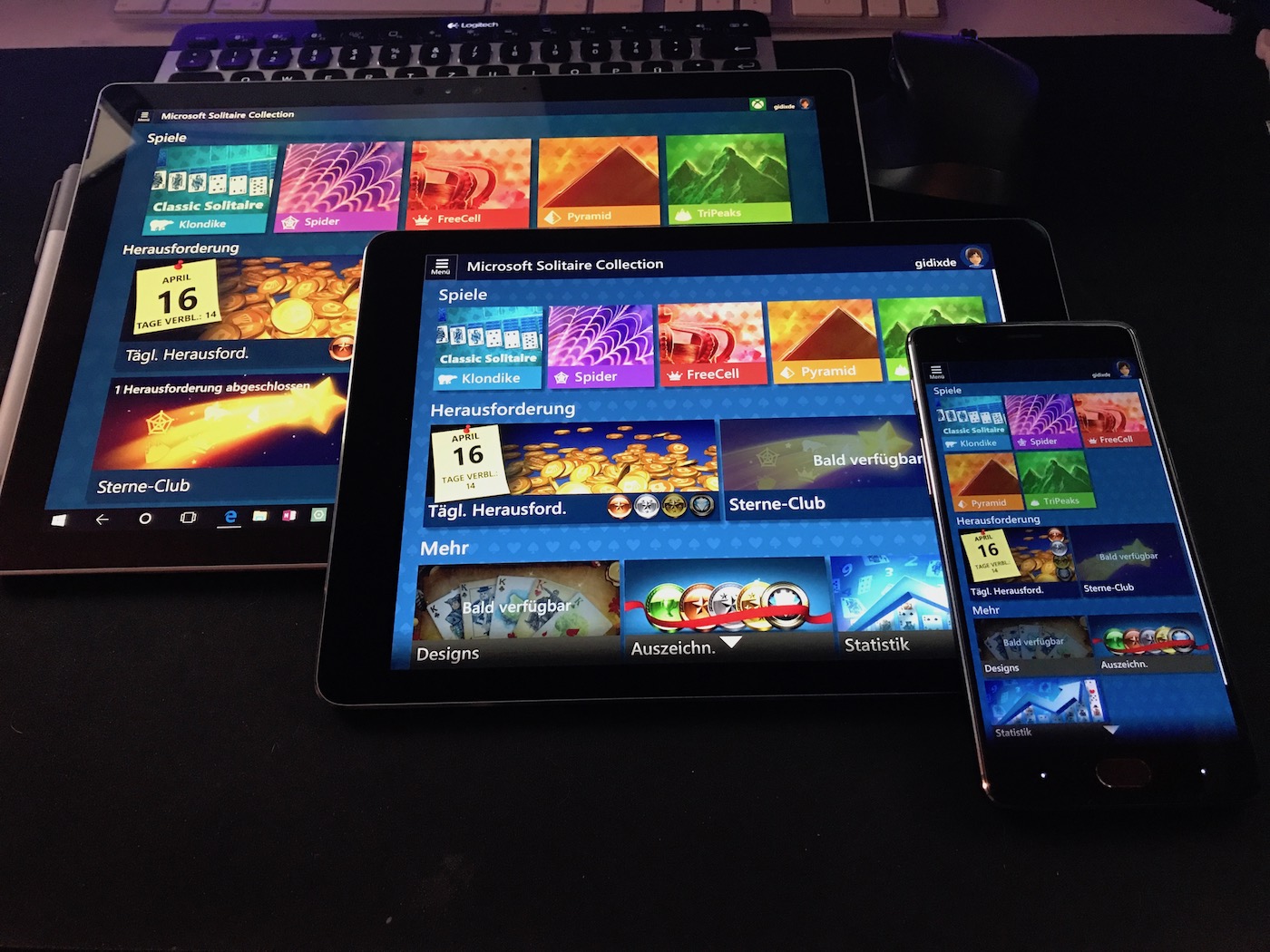 Windows, iOS, Android. A truly multi-plattform game.
What is this?
This is a collection of card-based single-player games made by Microsoft. It includes the original Solitaire (named Klondike), Spider, FreeCell, Pyramid and TriPeaks. All games can be played for free and as often as you like. There are no restrictions. You can even choose whether you want to play a random deck or a known solvable one, although you have to be connected to the internet for the latter for some reason.
---
The Games
Klondike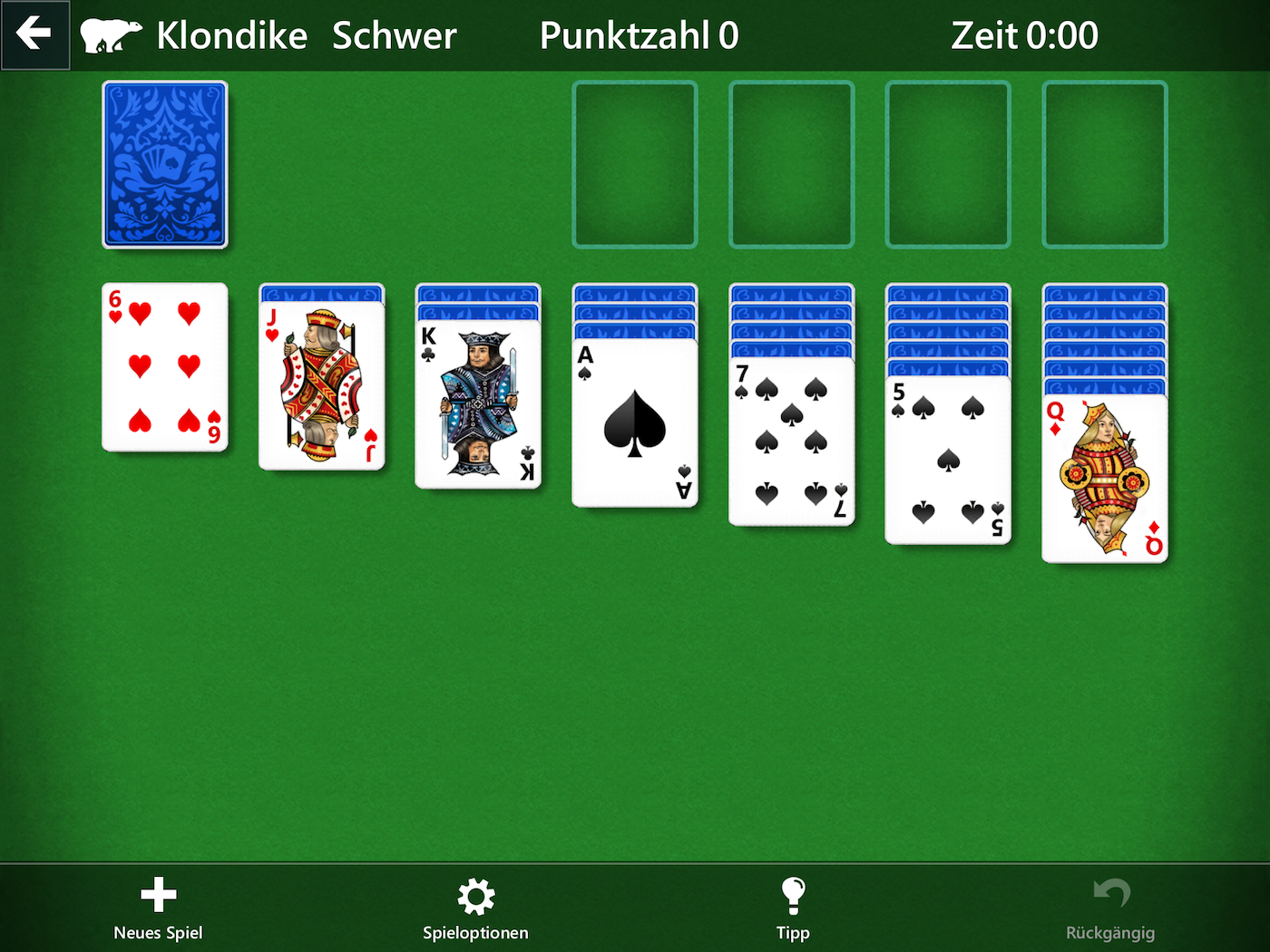 Schwer = Hard
In Klondike you have to put all cards from the board in four decks, starting with an Ace and ending with the King and sorted by suits. In the screenshot above I'd start with putting the Ace in one of the four empty spots above and move the Queen atop the King. The Jack cannot be moved on top of the Queen because they are the same color.
When a slot from the board is cleared it can only be occupied by a King again. Points are given based on how long it takes you to finish the board.
Spider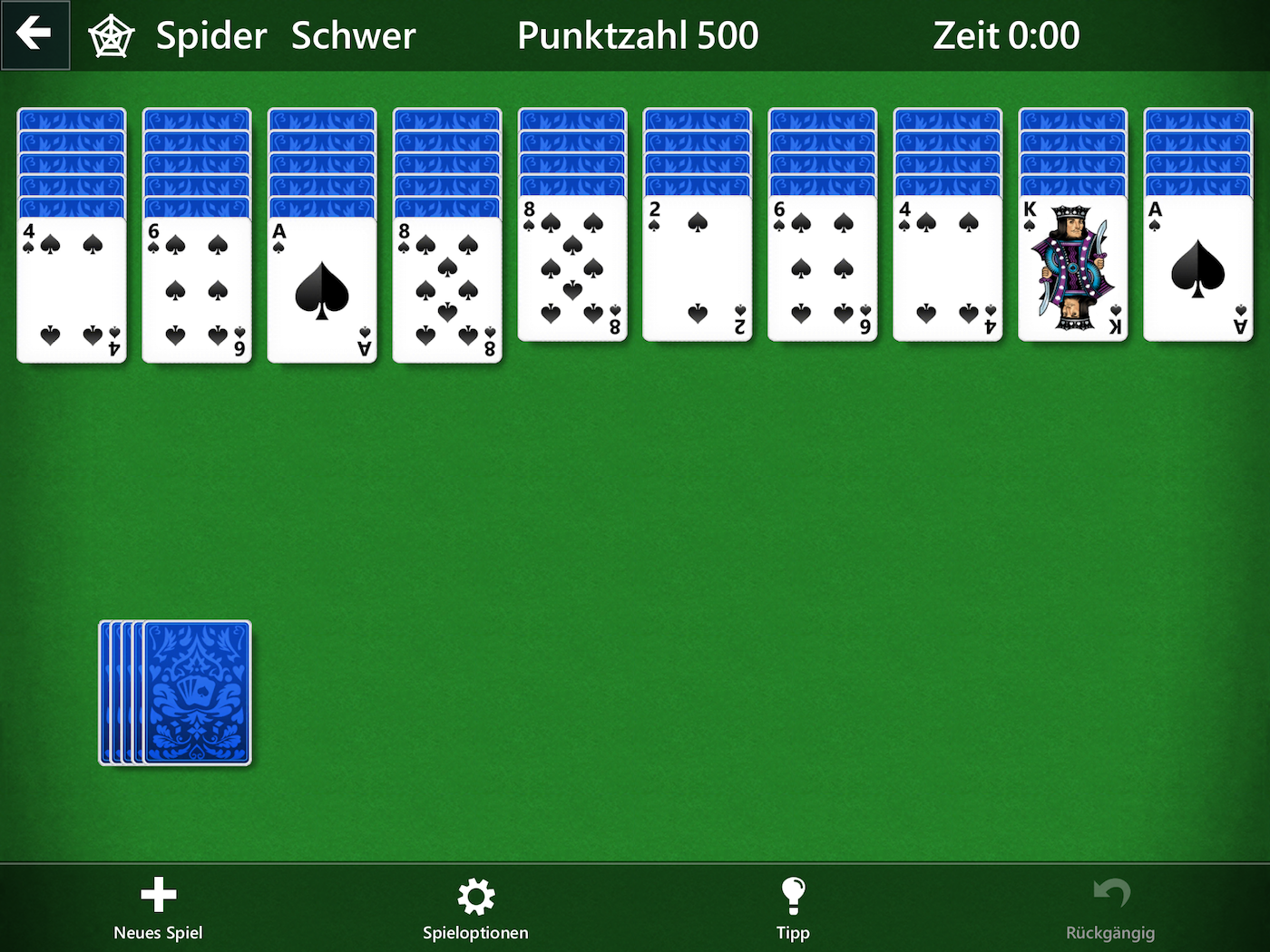 In Spider there are 10 decks scrambled up. You have to sort them by suit and value descending (starting a King, ending with an Ace). There are four game modes: one, two, three or four suits. In games with more than one suit you can combine cards of different suits but they won't complete a deck and you cannot move them simultaneously. Once a deck is complete it vanishes from the board. When there are no more moves available you have to ask for another round of 10 cards that are placed on top of the existing ones. You either solve it or you lose in an unsolvable state.
In the screenshot above I'd start with moving one of the aces on top of the two of spades.
FreeCell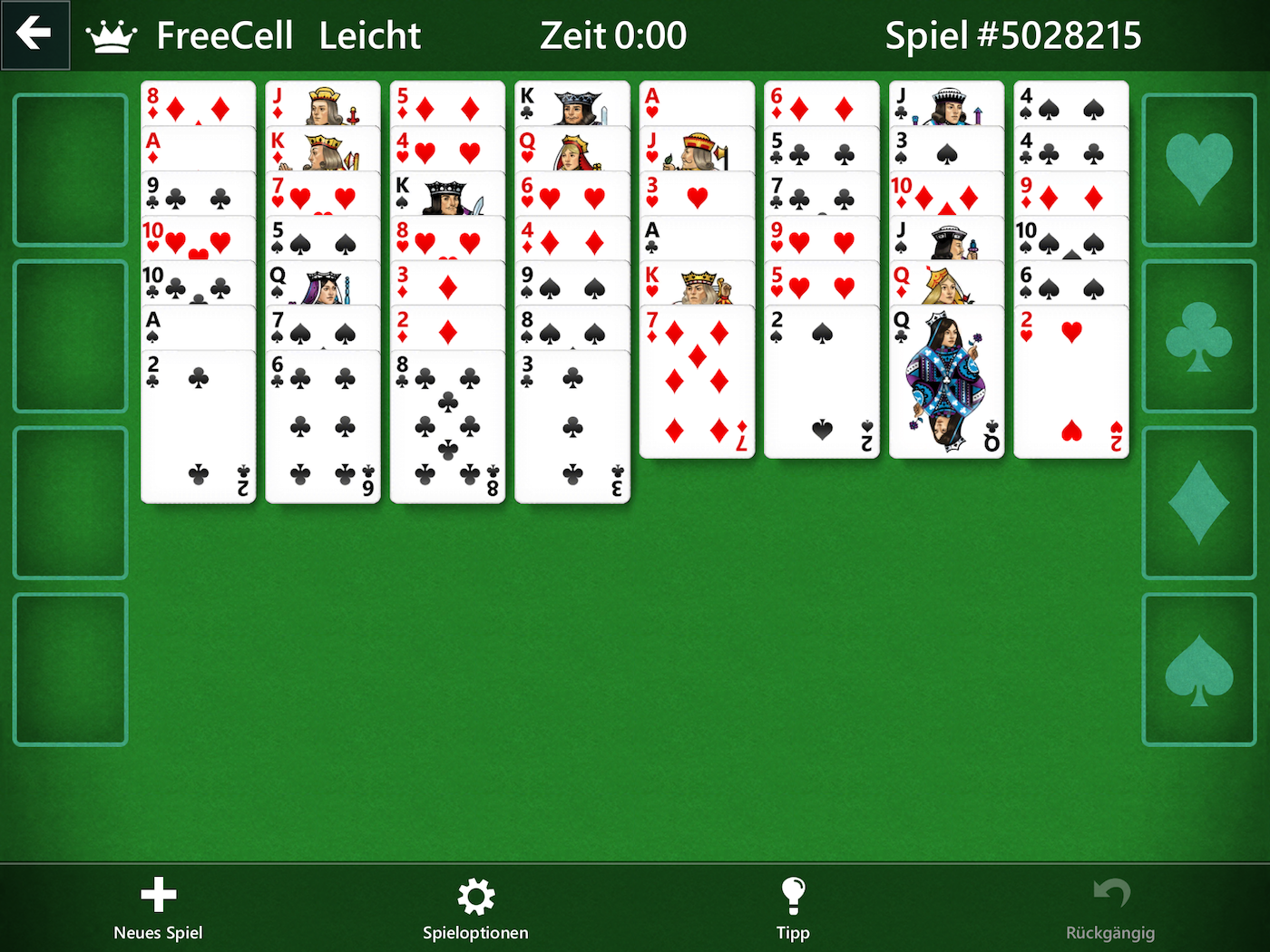 Leicht = Easy
In FreeCell you have 8 scrambled decks of cards although in contrast to Spider all cards are visible. Like Klondike you have four deck slots for stacking cards of a suit in ascending order (starting with an Ace, ending with a King). You also have four free cells (get the name?) where you can put any single card.
But there's a twist: You can only move five cards at once, when all your cells are free, four when three cells are free, and so on (so you can move n + 1 cards, where n is the number of free cells). While sorting you have to maintain a color-alternating stack.
In the screenshot above I'd start by moving the two of hearts on top of the three of clubs, then the seven of diamonds on top of eight of clubs, followed the Queen of clubs on top of the now free King of hearts.
Pyramid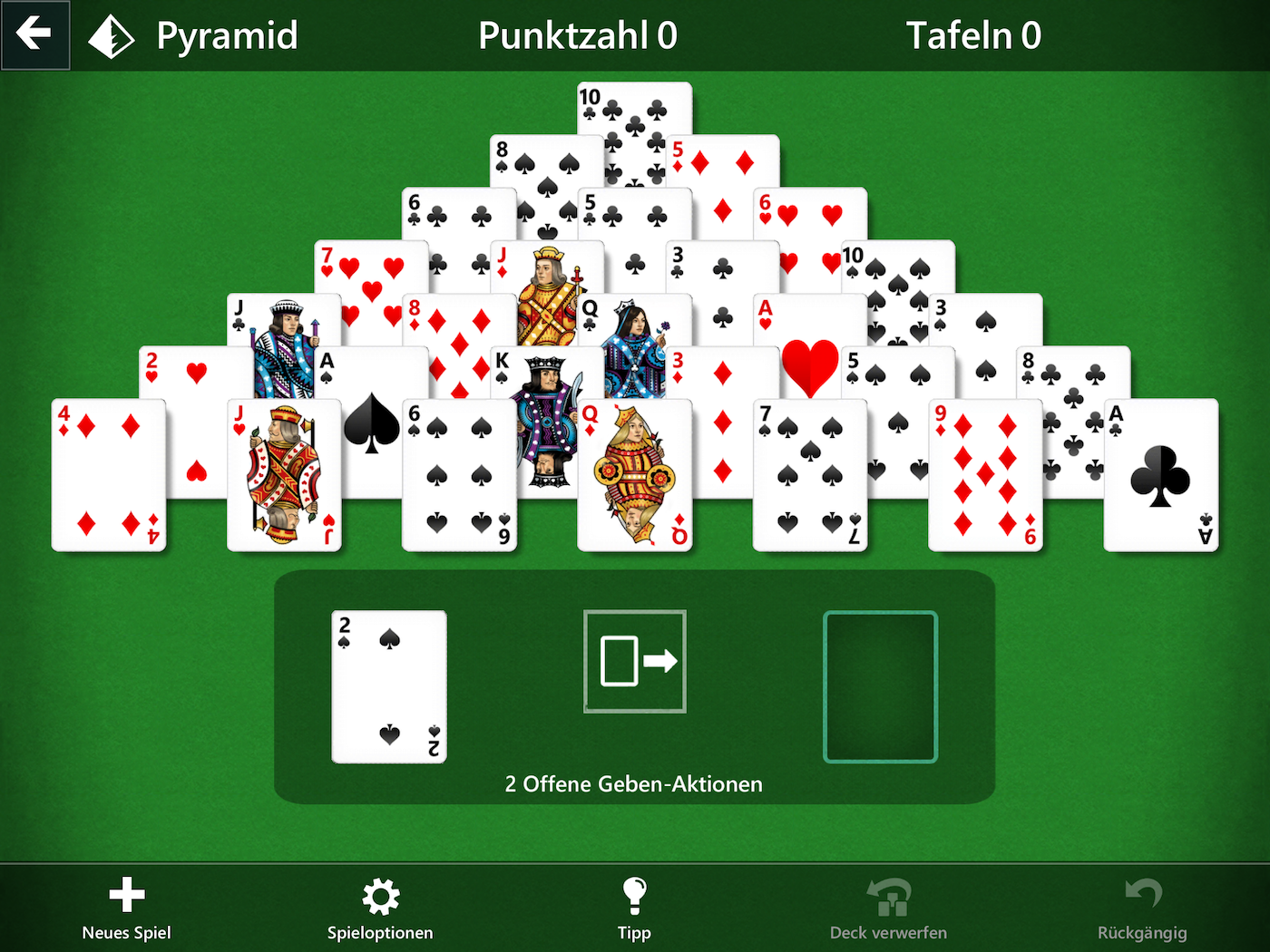 2 Offene Geben-Aktionen = 2 remaining unsolved pyramids
In Pyramid you have to clear a pyramid of cards. You do so by matching up cards that add up to 13, so i.e. 9+4, 10+3, J+2, etc. A King can be cleared alone. Pairs don't have to match color or suits. Once all cards are gone you're presented with a second pyramid. This game can be endless in that there might be a lot of pyramids until you see yourself in a deadlock. You can have two unsolved pyramids before the game ends.
TriPeaks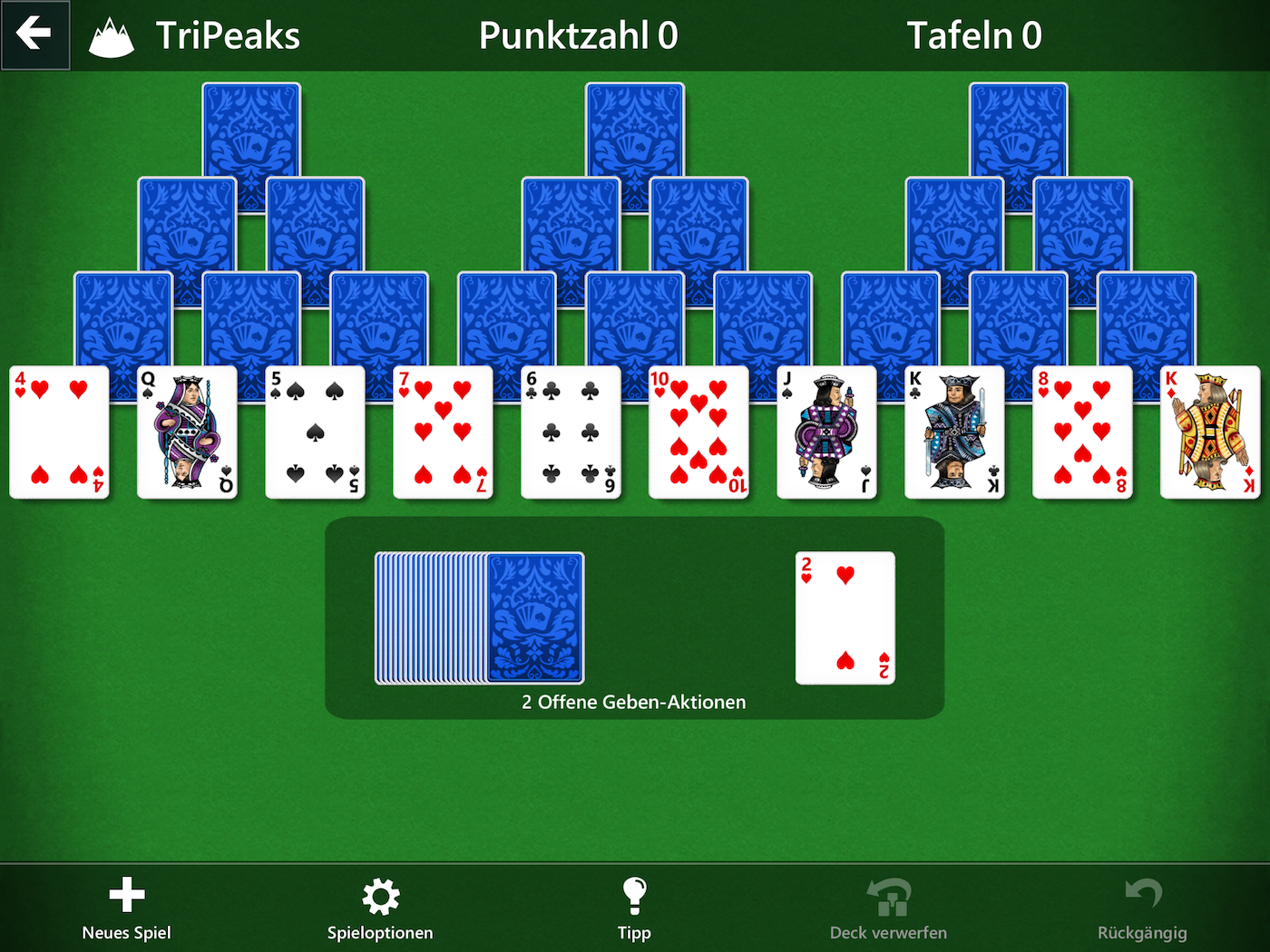 In TriPeaks you have to match up pairs of neighboring cards. You start with a given cards and have to find the next lower or higher card. If you find one this becomes your new base card. If you're lucky you can buold up quite long chains. If you don't find a matching card you can choose one from the deck. Once the deck is empty you lose the round (you are allowed to lose twice). If you finish the board, you win the round.
Tip: Don't play this right after playing Pyramid. You'll always try to match up cards that add up to 13…
Daily Challenges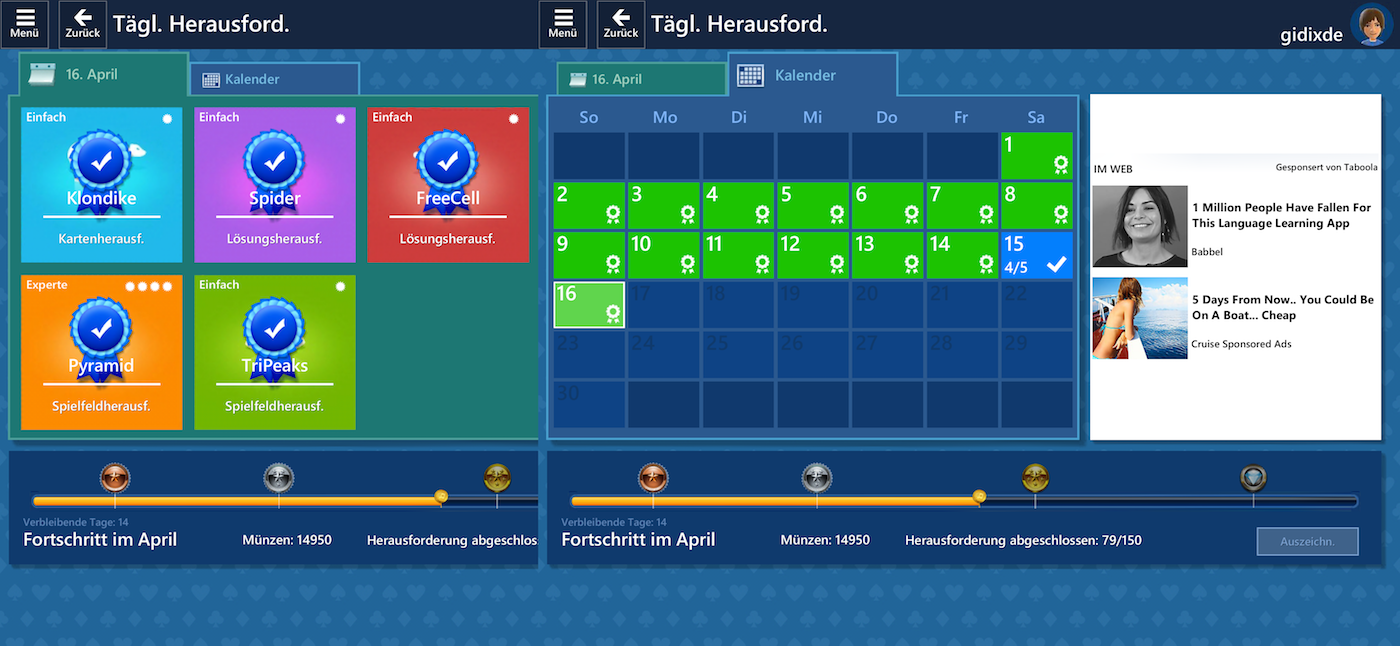 Pretty good streak so far, isn't it?
Every day there are five challenges, one in each game. These challenges come in different flavors:
Klondike

Clear the board
Get one or more specific cards onto a base deck

Spider

Clear the board
Have X sequences
Reach X points, you lose a point by moving one or more cards but win a lot of points doing a sequence

FreeCell

Clear the board
Get one or more specific cards onto a base deck

Pyramid

Clear X boards
Clear X amount of cards from a specific color, suit or value
Reach X points

TriPeaks

Clear X boards
Clear X amount of cards from a specific color, suit or value
Reach X points
For each challenge you get coins (difficulty doesn't matter). If you clear all five challenges you get bonus coins. These coins earn you bronze, silver, gold and platin medals for a month. You can do past challenges from the current month any time but not from previous months.
---
The Details
What makes this version so special?
This collection of card games isn't the first and it certainly won't be the last. But it definitely is the best. It has the best UI of them all, in looks and in user experience. It is fast. It is fun. It is regularly maintained and updated.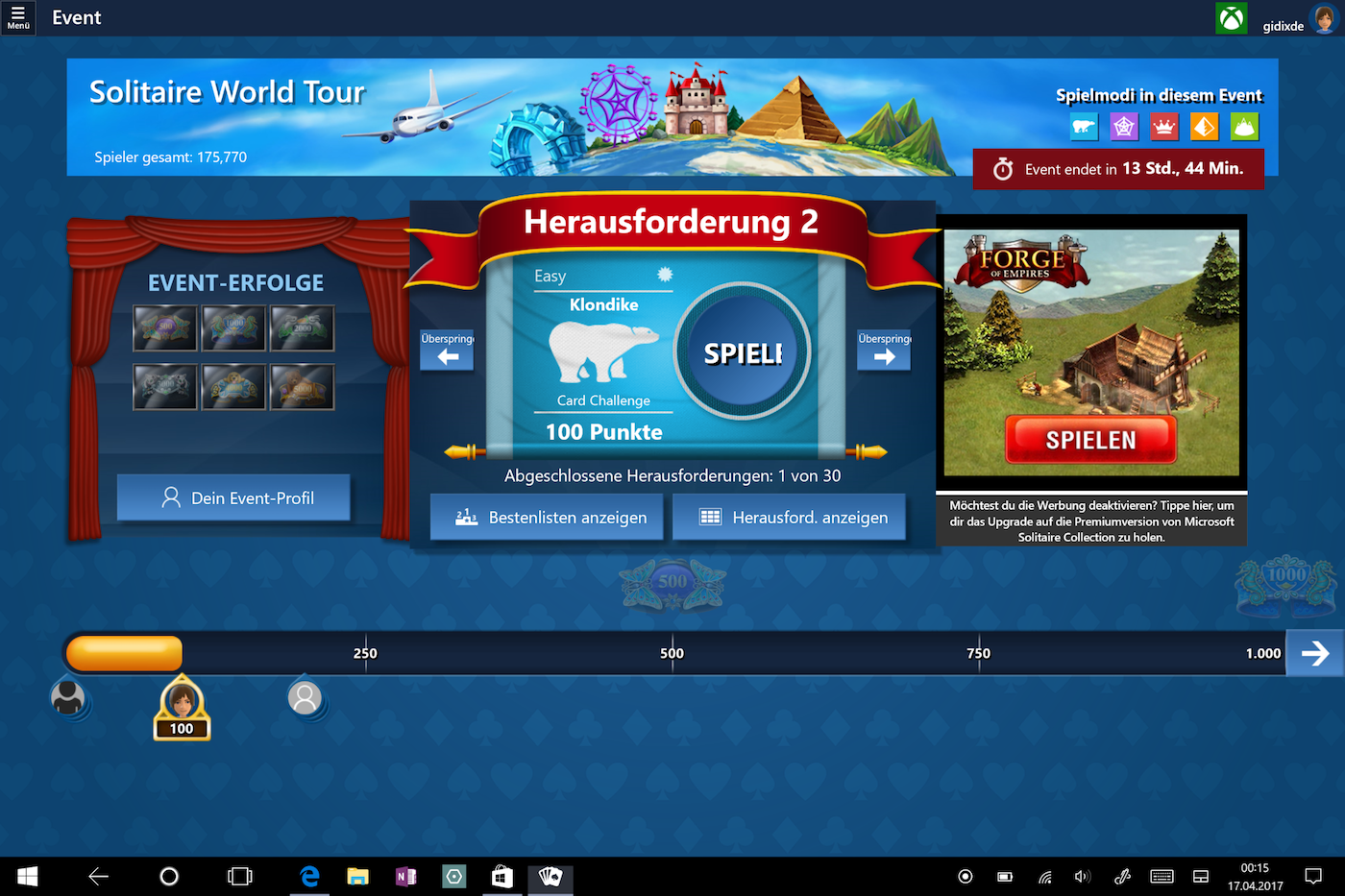 Solitaire Events, unfortunately Windows-exclusive
Most card games on the App Store or in Google Play (there aren't that many on Windows, sorry Windows users) either look like crap or have really bad controls. But Microsoft actually had some thoughts on how you should interact with a card game on devices ranging from 4.7" iPhones to 13" tablets on three different platforms. Even though an iPhone's display is really tiny for playing games like this the UI actually allows me to do so by adjusting the layouts for one-handed use in portrait and comfortable two-handed use in landscape. It even has options for left-handed players like me. It's a real pleasure to be able to play this on my iPhone, iPad and Surface.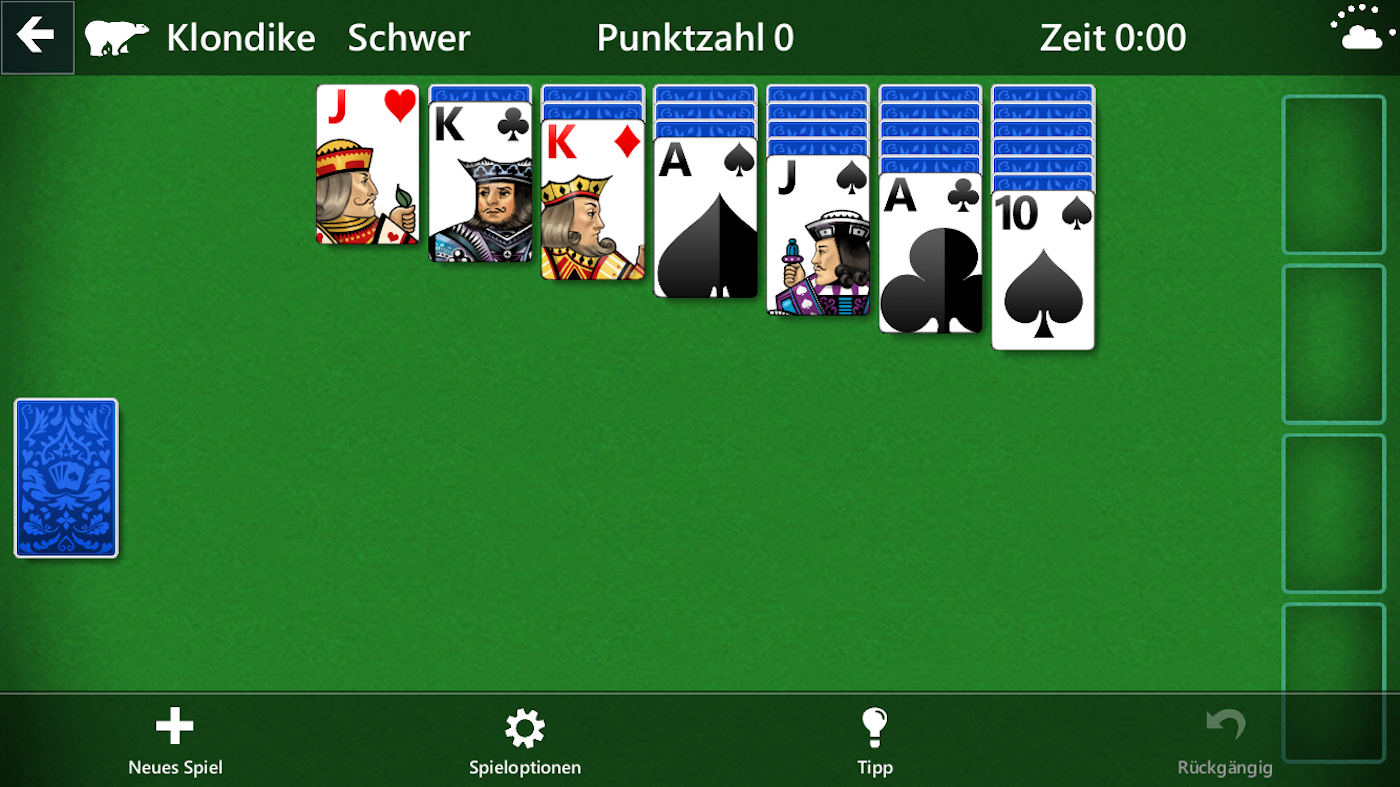 Klondike layout on an iPhone
It also syncs with Xbox Live so you can start a game on your phone and finish it on your tablet or Windows PC. The only issue I have with it is that it takes a solid minute until synchronization is done.
Some nitpicks
On Windows you cannot tap a card to have it move automatically. You always have to drag it where you want it.
The iOS and Android versions have smoother graphics.
Windows has more ads.
Custom Designs are not available on iOS and Android
"Star Club" (whatever that is) is not available on iOS and Android either
The Solitaire World tour is and will stay a Windows exclusive
There is a premium subscription for 1,99 € a month or 9,99 € a year. This will get rid of ads and give you more coins for daily challenges. They do not sync over to other platforms.
Animation
Solitaire Collection makes heavy use of animations for finished games. They are random but I was able to screenshot two of them:

Fireworks and glitch animations have been in every Windows release so far.
Conclusion
This is a fantastic app and definitely the best of its kind. Go download it.